AMS Awards
AMS is honored to be the recipient of several industry awards and we're delighted to share some of the terrific feedback we've received directly from our happy Gather clients.
AMS Wins 2021 Vega Digital Awards
After a thorough deliberation in the judging process, the 2021 Vega Digital Awards had its curtain call when they announced the list of winners. Out of 1,392 entries, AMS Event Services has taken three awards.

We are thrilled to be awarded for the Gathertown space we created SB3C 2021. AMS was honored for Best Use of Interactivity, Best Festival/Conference and Best in Science and Education. The Annual International Vega Awards program recognizes excellence in Digital Communications among vendors across the globe.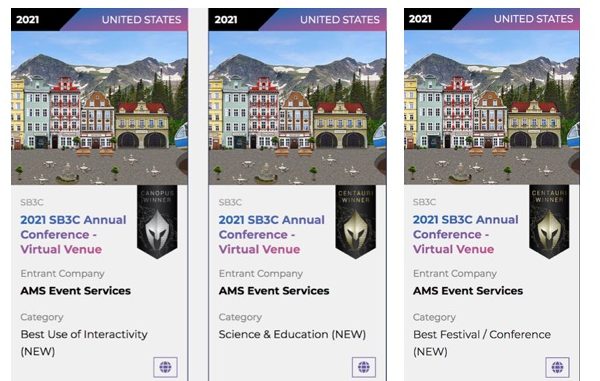 We're thrilled to be named the Platinum DotComm Award winner and the Virtual Events Award Gold Winner for our custom-designed Gather map that we created for the 11,000 leaders, innovators and influencers who attended the Forbes virtual 30 Under 30 Decade of Disruption Event.
AMS is the proud recipient of Untethered' s Best Re-Tether Award for the Gather space created for the SB3C Annual Conference. Watch our winning moment below.
What Our Clients Are Saying
"The AMS team took our very specific vision for interactive virtual networking on Gather and brought it to life with creative design and vast knowledge of the platform – all resulting in a successful and enjoyable experience for our audience. "

– Brett Cohen, Director, Live/Virtual Production, Forbes
"The AMS team's expertise about Gather, responsiveness to questions and real-time support during our event made the whole process stress free from development to launch. Best of all, the attendees, most of whom were new to Gather, really enjoyed it! All around this was a great experience and we would definitely use AMS again for future Gather events. "

—Naomi Nickerson, Nurse Practitioner Association of Manitoba
"In a very short amount of time, the AMS team brought to life our vision for an interactive and engaging virtual event. The team had expert knowledge on how to use Gather and they were extremely responsive, which was vital to the success of an event planned on a truncated timeline. It was truly a collaborative process and I appreciate all the work they put in to customize the space for us."

– Contasia Placide, Associate Director, Events & Experiences, Code for America
"Thank you very much for making BayLearn 2021 a success. We had great support and we loved everything you did. I also heard from a few attendees that they really liked the virtual experience."

– Sudarshan Lamkhede
BayLearn 2021 Co-organizer, Manager, Search and Recommendations (Netflix Research)